Protesters target shops in Lincoln's High Street 'to expose tax-dodging companies'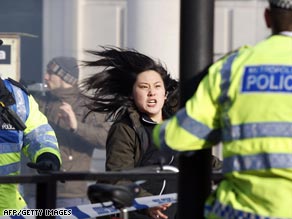 PLACARD-WAVING demonstrators occupied High Street shops and banks during a protest in Lincoln.
About 40 members of
UK Uncut targeted companies to highlight what they claim are Government lies over public service cuts.
The group, some dressed in bowler hats, stormed into businesses including Boots, Primark and Dorothy Perkins on Saturday.
They also protested in the Waterside Centre, targeting the Vodafone store. Shutters at the Primark branch there were pulled down.
Inside NatWest bank, in High Street, the police told them they were on private property and asked them to leave, to which one protester replied: "It's publicly owned."
Elsewhere, security staff prevented protestors entering Barclays.
The demonstrators chanted from outside: "Barclays bank, tax dodgers, they say cutbacks, we say pay tax."
Nick Parker
, 37, a member of UK Uncut, said: "The reasons there are cuts to public services is because so many companies are not paying tax and taxpayers have bailed out some of the banks.
"That's the real reason why the Government says it has to make cuts.
"Ordinary taxpayers pay their way and some are paying more than ever before.
"But these big corporations are getting away with it and at the same time we get reduced public services."
Nick Parker, 26, a candidate for Trade Unionists And Socialists Against Cuts in the city council elections, said the alternative to savage cuts was the Government collecting overdue tax from big corporations.
"What we are doing by protesting is exposing that there are banks and businesses avoiding paying hundreds of billions of pounds in tax," said Mr Parker, who works at the Jobcentre Plus call centre in Lincoln.
"This is happening while we are seeing the closure of Queen's Park Special School and cuts to bus services in Lincoln.
"I think what we are saying is being well received by the public."
But Mr Parker was told to "get a job" as he tried to hand a passer-by a leaflet.
Barry Reeves, chairman of Sincil Street Traders, said he had mixed views about the demonstration.
He said: "I'm all for freedom of speech, but this is disrupting people's shopping in Lincoln.
"There are parents with pushchairs struggling to get about and, to some people, it could all seem a bit intimidating. I hope the protestors enjoy their McDonald's when they finish.
"They are moaning about cuts to services and taxes not being paid, but how much has all of this cost the city to police?"
Police filmed and photographed the protest throughout. No arrests were made.
Source:
This is Lincolnshire